Residential Property Inspections & Infrared Services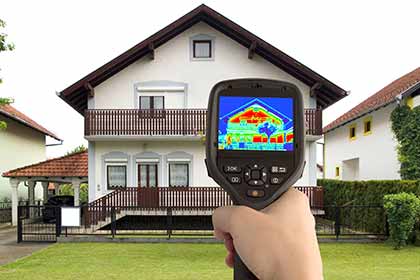 The Houston residential property inspection services provided by the experts at Able Inspections and Infrared Services can ensure that home buyers can enjoy the benefits of added information regarding the condition of key systems and structures before making an offer on a home. Additionally, we can provide targeted inspections for Houston residents to identify any areas of concern prior to the expiration of your home warranty or prior to listing your property for sale. Our knowledgeable professional staff can help you enjoy your home to the fullest and make the right choices in the Houston real estate marketplace.
Serving the Entire Houston Metropolitan Area
Able Inspections and Infrared Services has been a fixture in the Houston area for more than 30 years. In that time, our city has expanded to include numerous communities in the surrounding areas. Our team can travel throughout the metropolitan area to provide expert home inspection services designed specifically to suit your needs. Here are just a few of the many communities we serve:
Seven Meadows
Lakes on Parkway
West University
Cinco Ranch
Meyerland
The Memorial Villages
Houston Heights
We will travel throughout Houston and the surrounding areas to manage your home inspection needs. At Able Inspections and Infrared Services, we literally go the extra mile to serve our clients.
The Able Inspections and Infrared Services team is committed to providing the most accurate reporting and the largest array of options in the Houston home inspection marketplace:
We offer comprehensive home inspections that include a close look at foundations, roofs, electrical wiring, HVAC systems, plumbing and overall structural integrity to help home buyers decide whether a particular property is suited to their needs.
Swimming pools, spas and water features can be important selling points in the modern real estate marketplace. Our knowledgeable staff members can inspect these installations to ensure that they are safe to operate and in good running order.
For recent home buyers, scheduling a check-up inspection prior to the expiration of the home warranty can ensure that builders and contractors live up to their obligations to pay for items covered under these legal agreements.
Our technologically advanced Houston infrared inspection services can uncover serious issues that may include roof leaks, lack of insulation, gaps around windows and doors, faulty electrical wiring and other problems that require immediate attention.
We also offer Houston commercial property inspections to ensure that investors and local companies can make the right moves in the real estate marketplace. Our highly trained technicians and engineers can provide you with the most accurate assessment of each property's strengths and weaknesses to allow you to make informed decisions and to avoid unwanted complications. Contact us today to discuss your home inspection needs or to talk with one of our experienced technical staff. We look forward to the chance to serve your commercial and residential property inspection needs.